Get Your Cooling Back Quickly with Our Professional AC Repair in Samuels, ID
It's important to remain cool during those soaring summer highs. That's why it's all the more annoying when you have to deal with a busted or malfunctioning air conditioner. But instead of getting out the ice packs, why not hire one of our veteran HVAC specialists at Age Heating & Cooling? We work quicker than anyone else around to get your home or business's AC up and working again, making for the best AC repair in Samuels.
That's because our technicians are devoted to providing you the very best in customer support. We know how vital your comfort and peace of mind is. And we pledge to complete all jobs just how you want them the first time so you won't end up with poor service again.
If you're looking for emergency repairs or a routine inspection, Age Heating & Cooling is standing by. The next time the heat comes around, you'll be nice and cool.
Contact us at 208-603-2210 to request your appointment today!
Many serious or complex problems that can happen to your air conditioner need the help and tools of a certified professional. But did you know there are multiple smaller tasks you can do on your own to keep your AC in decent shape? Here are a few of the most common ones across a variety of systems.
If your unit won't even turn on, it might mean something is wrong with your thermostat or circuit breaker. Closely inspect switches or displays to make sure they're accurate, but try to avoid any wiring that looks exposed.
Untreated, warm air is also a common problem. This is frequently because there's something clogging your air filter. Routinely swap out the filter. You'll keep dust and debris from getting further into your home or business.
And there's always the possibility your AC simply isn't strong enough to evenly cool your home. This is also most likely because of a clog somewhere in the ductwork. It could even be because your system isn't enough for your cooling needs.
Other thing to check for include stains by the HVAC equipment or clunky sounds coming from the system. You could easily find a problem before it gets worse, saving you time and stress in the long run.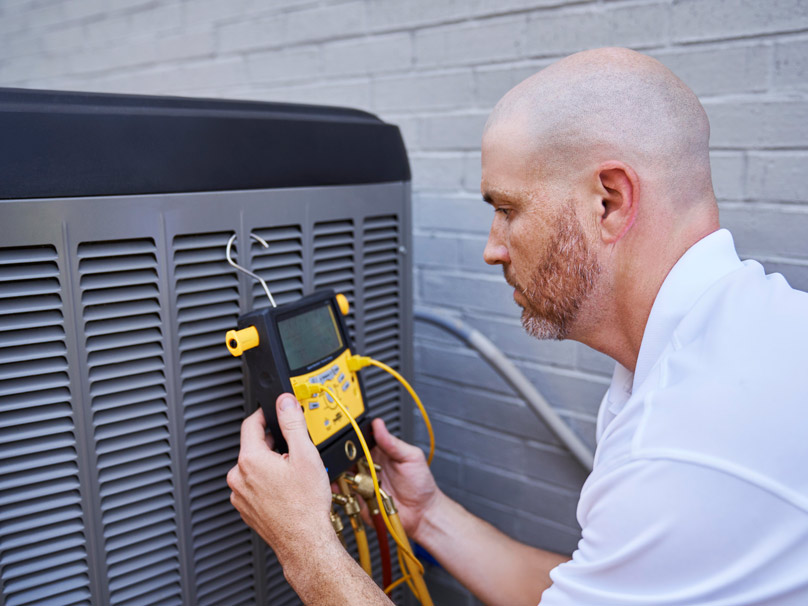 AC Service in Samuels, ID and Surrounding Areas
There are multiple benefits to letting the pros at Age Heating & Cooling handle your AC service in Samuels. You can be certain that every service call is being handled with experience and extensive training on all makes and models of HVAC equipment. This will reduce the need to make emergency service calls. It can also boost its energy efficiency, leaving you with a more productive, cost-effective AC unit.
If that sounds helpful to you, why not chat with one of our specialists about our comprehensive AC maintenance plans? Routinely scheduling inspections and light maintenance prevents multiple problems from happening in the first place. We'll have the chance to double-check important parts, and maintain any that need extra attention. This might add years to your air conditioner's overall life span, saving you even more money.
We also offer some of the quickest, most consistent AC installation in Samuels. If you're not sure about whether to swap out your air conditioning system, think about its age and how much it costs for upkeep. Also think about how often you find yourself scheduling service calls. Air conditioning systems usually last for 10-15 years, so start thinking of a replacement when yours is that old. We'll sit down with you to discuss all potential options as well as brands and features. That way you'll be confident you know which model will be best for you and your home. And we offer a wide variety of durable, efficient models.
Age Heating & Cooling is ready to take care of whatever problem you may be having with your HVAC system. We'll do so quickly, professionally and safely. For more information, or if you'd like to make an appointment, give us a call today at 208-603-2210 or contact us online.
CALL TODAY 208-603-2210
You Can Depend on Our Quality Heat Pump Repair in Samuels, ID
Being left with a busted or faulty heat pump is an exercise in aggravation. You have better things to do than lay around for heat pump repair in Samuels. To avoid the hassle, the HVAC experts at Age Heating & Cooling are dedicated to identifying and resolving a range of heat pump malfunctions with speed and unrivaled customer service.
We're legendary throughout Samuels for providing prompt, knowledgeable service for your heat pump. Our well-trained repair staff get the job done correctly the first time around because we know you have plenty of more important things to concern yourself with.
If you use a heat pump, chances are good we've seen your problem many times before. Our techs will begin working immediately to bring your heat back on, continuing the tradition of unrivaled customer service. If you feel your heat pump is broken, don't wait a minute longer. Pick up the phone to schedule an appointment today!
While a large number of heat pump problems are easy to spot, particularly if the pump isn't running at all, other problems are more difficult to recognize. Your own senses are helpful tools. The more they get used to how your heat pump should perform, the more they'll notice if something changes. Fortunately, there are ways you can help your heat pump without professional help.
Check your thermostat and breaker box. Now and then the problem is simply using the wrong settings or programming.
Another frequent problem owners deal with is bad airflow. Keeping the vents clean of extra dust may prevent clogs from forming, but most often it is because of a dirty air filter. Replace it every few months for better efficiency. If the problem is with a component like the evaporator coils, it's best to reach out to a professional.
And if your heat pump won't run in the first place, check wiring and switches as well as the air filter and breaker box. If you can't find anything wrong in these places, it might be time to call a professional.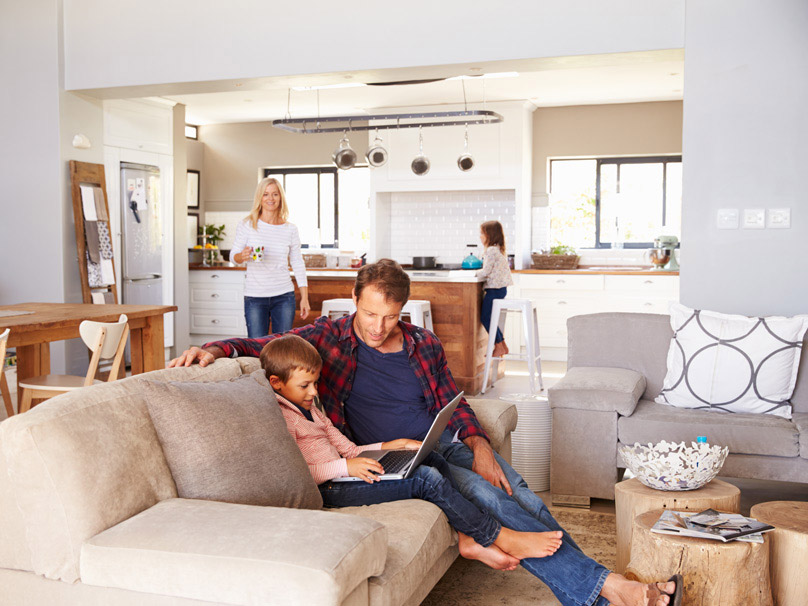 Heat Pump Service in Samuels, ID and Surrounding Areas
After you learn your heat pump requires professional help, you may be worried about taking forever to find heat pump service in Samuels. Minimize the hassle and subpar service by hiring Age Heating & Cooling. We'll take care of your problem quickly and affordably.
Your heat pump is one of the most important systems in your home, working around the clock for you every day of the year to provide heating and air conditioning to your home. That means a lot of wear and tear over the years. Steady maintenance alleviates this.
Investing in heat pump maintenance spares you from constantly scheduling service calls, and it might strengthen your system's energy efficiency and overall life span. That's why our annual heat pump maintenance plans are popular. They consist of regularly scheduled service visits designed to maximize your heat pump's productivity. Feel free to ask one of our specialists for more info the next time we're on site.
Even the greatest maintenance plan can't keep a heat pump around forever. Over time your heat pump runs less and less efficiently. Sooner or later you'll be spending more on constant repairs to keep an old heat pump working. This can cost more than new systems outright. Before that happens, look into heat pump installation in Samuels. New models are quieter and more energy efficient than ever thanks to modern technology, saving you more on monthly energy costs. Occasionally you can combine them with existing furnace systems for a more efficient setup.
While the number of available choices may feel intimidating at first, our friendly technicians are more than ready to help you explore options. We'll go over pricing, models and extra features you need. You'll walk away with the knowledge you made an ideal decision according to your budget.
Give us a call at 208-603-2210, or contact us online to arrange for your heat pump servicing today.
Restore Coziness Fast with Our Excellent Furnace Repair in Samuels, ID
Having a running furnace seems like an afterthought until those cold winter lows start blowing through. Dealing with a damaged or malfunctioning furnace in such bad weather is a huge hassle. No one should put up with that, namely when all you can do is lay around for decent furnace repair in Samuels, ID You deserve to enjoy the warmth of your home without a bunchof extra blankets or coats.
That's where the veteran furnace professionals at Age Heating & Cooling come in. It doesn't matter if your furnace is malfunctioning or working at all. We're dedicated to bringing you quick, top-notch service on all makes and models of heating systems. We won't quit until the job is done correctly the first time. By the end you're left with a heater that runs better than ever. You'll see how furnace maintenance can be quick and high quality.
So what are you in the market for? Need emergency repairs, or maybe you're browsing new models? If you are not sure which will best fit your home or business, it's okay. Whatever the complexity of the job, our licensed and well-trained techs will work around the clock for you to get that heater on. The next time cold weather swoops in, you'll be too busy enjoying the comfort of your home to notice.
The components making your furnace an important part of your home or office comfort system are often complex and best served by someone with experience. If something is failing, don't hesitate to call for professional help. We're more than willing to bring every tool and trick we have in our arsenal. But there are also many tasks you can perform without professional help to recognize signs of trouble. While you will want to keep your eyes and ears open for anything unusual, there are some specific components to look at.
Your thermostat tells your furnace to turn on and off. If the heating isn't working normally, it could simply be the wrong setting or programming. If it's a smart thermostat, knowing which model or brand it is will assist you when troubleshooting.
Anything electric should also be inspected. These components can cause fires or corrosion if the damage is serious enough. It's also beneficial to check the breaker box as well. Look for switches fixed to the wrong position.
Regularly cleaning components like the air filter or flame sensor makes a sizable difference in your furnace's overall efficiency and health. Many problems start when these components get dirty or worn down.
These and other easy tasks make up a decent portion of proper furnace care. And you will have a more efficient furnace lasting years longer! Don't wait to call for a professional technician for any problem you think we could help with.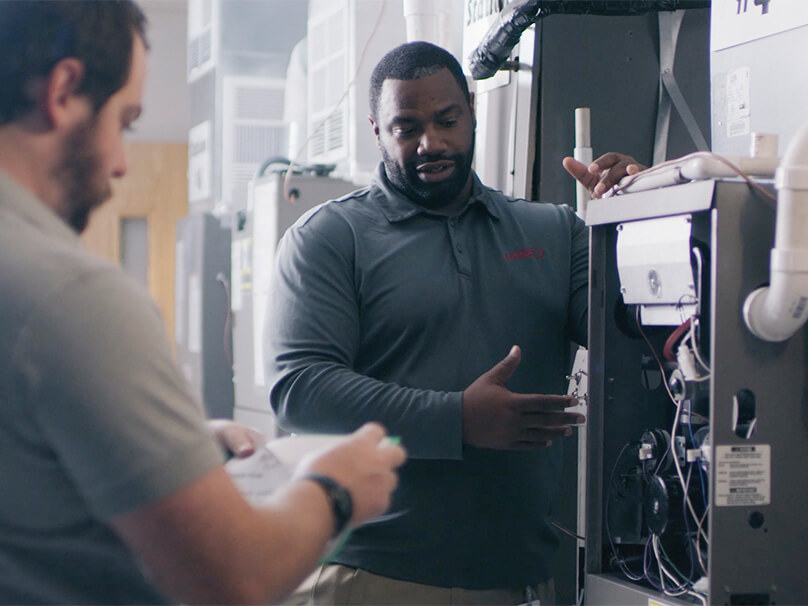 Furnace Service in Samuels, ID and Surrounding Areas
If you've ever hunted for furnace service in Samuels, you understand how exhausting the process can be. Hiring Age Heating & Cooling to handle your furnace maintenance will provide the fastest, most reliable heating techs around. We'll show you how stress-free it is.
For example, you'll have the trust your home will be kept safe. Carbon monoxide is a harmful substance that escapes from your furnace if left in poor condition. We'll find and seal up these leaks fast. You'll also benefit from a reduced risk of your furnace breaking down entirely. Breakdowns like that can be tough on your finances including your heating bills. The peace of mind knowing you're in experienced hands adds up over a system's lifetime.
One of the most effective services we offer is our annual furnace maintenance plan. If you'd be interested in enrolling, don't hesitate to talk with one of our helpful staff members about the details. You'll learn how they'll make a good fit for you. Consistent maintenance is designed to increase the energy efficiency and overall health of your furnace. You may be left with less expensive energy bills and a longer-lasting furnace.
During these maintenance visits we'll check central systems like the blower motor or burners. We'll make sure they're clean from grime or other buildup. Anything that needs to be tightened, replaced or lubricated will be taken care of.
No amount of care can make a system last forever. Over time your equipment will run less efficiently. Most home heating systems last anywhere from 12 to 17 years. Is your furnace older than that? Or has it been a while since it received maintenance? It is more likely to break down or require more costly repairs. Even then you may find your energy bills rising steadily.
Sooner or later your old system won't be worth the trouble fixing. You can end up paying in repair bills what a new system costs. If you notice your furnace running poorly, it could be time to think about furnace installation in Samuels. Luckily for you we're happy to help. The new heating systems we offer are designed with amazing energy efficiency in mind. And they will run quietly, so you can avoid the loud, temperamental furnace many owners hate dealing with.
It's okay if you don't know where to start with replacement options. We'll help you explore all potential choices. And we're happy to stick to a schedule that works for you. Check out pricing, models and other features to determine the ideal furnace for you. After that we'll start right away on seamless installation. You'll enjoy a durable, high-quality product for years to come.
Give us a call at 208-603-2210 or contact us online today to schedule an appointment. We're ready to help with whatever you need!