Pro AC Repair in Troy, MT That's Hassle-Free
The beginning of summer is the worst time to deal with a damaged HVAC system. Your place should be one of rest and relaxation after a hard day in sweltering temperatures. So instead of waiting around for subpar AC repair in Troy, consider going with the AC experts at Age Heating & Cooling. We know how important staying comfy in your own home or office is. Which is why we'll work around the clock to make sure your AC is back in great health as soon as possible.
All of our technicians are committed to the very best customer service. And we'll make sure it's provided quickly and safely. It doesn't matter how large or insignificant the job might be because we won't give up until it's done properly the first time.
You may be searching for emergency repairs or a routine inspection of key components. It could even be the installation of a new, energy-efficient air conditioner. Regardless of what your needs are, Age Heating & Cooling has the tools and know-how to best help you through the worst of summer.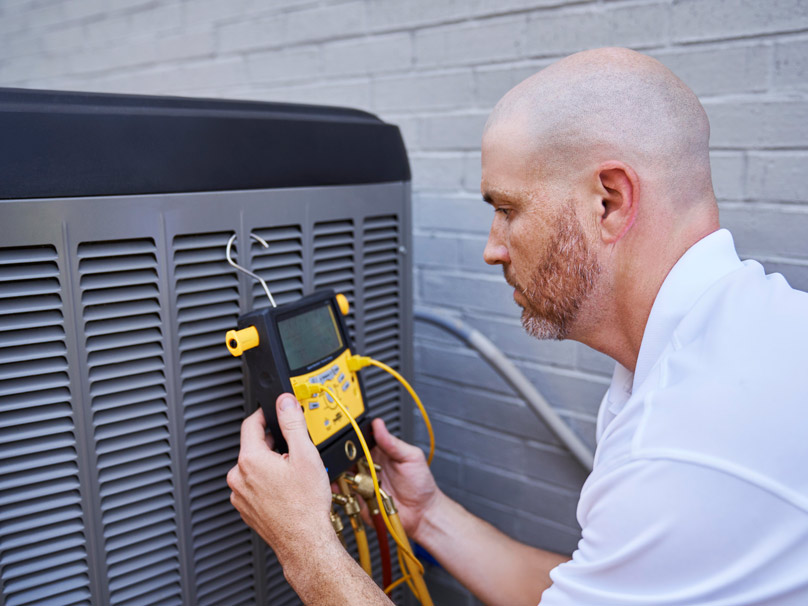 AC Service in Troy and Surrounding Areas
When you demand fast and dependable AC service in Troy, call the cooling masters at Age Heating & Cooling. Taking the time and money to invest into your air conditioner now has multiple benefits in the future. We thoroughly review important parts for problems or breakages. We'll also lubricate and tighten any part that needs it. This means your air conditioner will work more efficiently and it may even extend its overall life span. This could mean lower cooling bills.
Ask about participating in one of our AC maintenance plans. They are helpful if you want to balance regularly scheduled maintenance with total costs over the course of your air conditioner's life. While they tend to last anywhere from 10 to 15 years, consistent maintenance can extend this quite a bit. This will offer you years more of comfort and peace of mind. Be sure to ask one of our technicians about more details and you'll learn for yourself how useful these plans can be for caring for your HVAC system.
Though unfortunately it can't last forever. Eventually your AC will become too old or damaged to justify keeping it instead of finding a replacement system. Luckily we also excel at AC installation in Troy. If you're not positive of when you'll need a replacement, consider its age. Also think about how often you have to call for maintenance. Even though a new air conditioner might seem expensive at first, these new models are much more energy efficient than older units. You'll have a chance to reduce your heating and cooling costs too. We'll help you review all possible options until you know what brand, pricing and desired features will make for the best fit in your home or business.
CALL TODAY 208-603-2210
Your Loved Ones Can Depend On Our Professional Heat Pump Repair in Troy, MT
A damagedor failing heat pump is frustrating to deal with. There are other things to do than wait around all day for heat pump repair in Troy. If you would rather skip the frustration and wasted time, why not hire the best name in HVAC service? Age Heating & Cooling and our team of highly trained insured and licensed heat pump specialists can help. They have the knowledge, experience and enthusiasmto provide outstanding service for any heat pump problem you're facing.
If you own a heat pump, chances are we've encountered the problem before. We'll hurry over quickly to verify and fix the problem, giving you the opportunity to focus on other chores. We won't go home until the job is done correctly the first time. Get a head start by letting us know what's wrong as soon as possible. Big or small, the experts at Age Heating & Cooling can handle it all.
If you are uncertain how to recognize a heat pump problem, your own senses are helpful. Get your senses used to what a normal pump looks, sounds and even smells like. You'll better recognize when something is defective. This may stop problems before they grow into something worse.
One typical issue with heat pumps is weak heating. Luckily, sometimes resolving it is as straightforward as checking your thermostat. Change the settings and programming first. If that doesn't improve things, a professional technician might be required.
Another problem people often struggle with is bad airflow. Examine your vents for signs of clogs. If everything seems clear, it may be the heat pump itself. Most of the time it's your air filter. Swap it every couple of months to prevent debris buildup. Sometimes it affects more complex systems like the evaporator coils. While replacing the filter is easy, a problem with the evaporator coils will require professional help.
Sometimes, your heat pump won't activate at all. In many cases this is electrical, so try examining your thermostat or breaker box first. If you can't find anything wrong, or if you find faulty wiring, let us know. We'll handle it quickly and safely.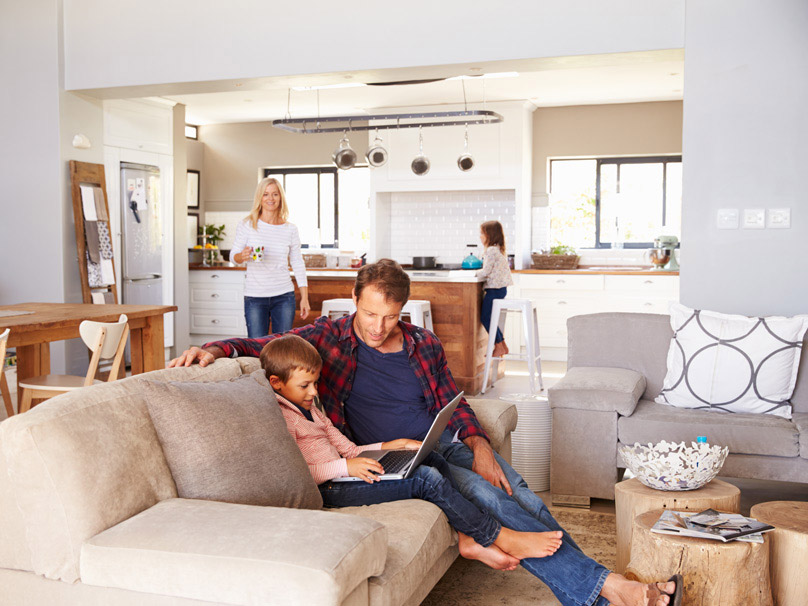 Heat Pump Service in Troy, MT and Surrounding Areas
As soon as you've realized your heat pump could use some maintenance, don't trouble yourself with subpar service. Age Heating & Cooling works faster and more efficiently than other technicians in Troy when it comes to heat pump service. We're legendary for servicing all heat pump services with care and speed. Any time or money we save is yours to keep
Your heat pump is a crucial part of an HVAC system, working every day throughout the year to both heat and cool your home. Without proper servicing, your heat pump could wear down quickly, resulting in a total failure or other costly emergency.
It's an investment into the overall health of your HVAC equipment. Periodic service visits give us the chance to closely inspect and maintain important systems. This could enhance your heat pump's energy efficiency, resulting in decreased monthly energy bills. The best way to get regular maintenance is to participate in one of our annual heat pump maintenance plans. Ask one of our technicians for more info.
As qualified as our technicians are, they can't keep your heat pump running forever. There will come a time your heat pump has to work harder and harder to maintain comfortable temperatures. Soon enough you'll have to schedule constant repair visits to keep this old system alive. You might end up spending more than what a new system costs. We'd like to offer our exceptional heat pump installation in Troy. We'll provide a seamless transition to your new heat pump. New models are more productive and energy efficient than ever.
Don't worry about knowing everything about possible options right away. We're more than happy to help you review them. We'll discuss brands, pricing and additional features you want. When we're done, we're confident you'll make a wise choice perfect for your needs and budget.
Contact us through the web or give us a call at 208-603-2210 today to find out how we can help.
Bring Back Comfiness Rapidly with Our Quality Furnace Repair in Troy, MT
When winter weather comes racing in, everyone should be able to relax in the coziness of their own home. This isn't always feasible when you're dealing with a damaged or malfunctioning furnace. It's bad enough laying around for furnace repair in Troy, MT without an ice storm on the way.
That's why Age Heating & Cooling and our team of well-trained HVAC specialists are dedicated to helping you. We're masters at getting the heat back on promptly. And we've handled every kind of error, common or not. No matter what's gone wrong, you can depend on us.
Whether you need emergency repairs or routine maintenance, our professionals are at the ready. We'll illustrate you don't have to give up quality for speed. We won't rest until the job is finished according to your expectations the first time around. The next time an ice storm blows through, you'll be too comfortable to notice.
Because your heater is such an important part of a home's comfort system, it's an unpleasant fact precautions should be taken. Repairs involving wiring or natural gas are often best handled by trained specialists. They understand how to minimize risks. Thankfully there are multiple tasks you can handle by yourself. Not only will you keep your furnace clean and quiet, but you'll be better equipped to recognize signs of damage.
Your own senses are some of your greatest tools. They'll be alert to strange sounds or smells. This gives you the opportunity to act quickly and call for professional aid before the problem becomes more difficult or expensive.
Many errors can be tracked back to damaged electrical components. This is usually the case when the furnace won't activate at all. Check to make sure your thermostat and electrical panel are okay. Be sure to remain away from anything that seems dangerous. If reviewing electrical components doesn't uncover the issue, it may be time to contact an experienced technician.
Regularly cleaning vital parts is also helpful. You'll cut down on the buildup of dirt and other debris. Otherwise components like the pilot light or flame sensor wear down faster or work less efficiently. If they're not functioning normally, the rest of your HVAC equipment could be affected.
Remember while these steps are helpful, they can't always replace the expertise of a certified technician. We're more than happy to worry about the hard part of the job. Don't hesitate to rely on a quality service company like Age Heating & Cooling.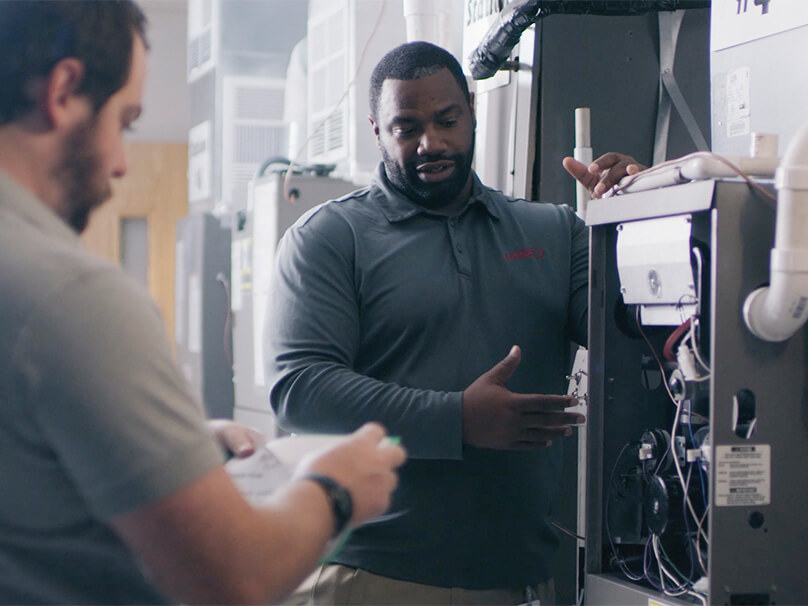 Furnace Service in Troy, MT and Surrounding Areas
Anyone who's ever dealt with mediocre service realizes how aggravating and time-consuming the process is. But it doesn't have to be when you trust Age Heating & Cooling. Instead you'll learn firsthand how fast and stress-free HVAC service in Troy is with us in your corner.
One benefit is the sense of safety and peace of mind a knowledgeable technician provides. We're trained to recognize the signs of carbon monoxide leaks, gas leaks and electrical fires. Consistent maintenance also reduces the possibility your system fails entirely. You can instead worry about more important things while enjoying an efficient furnace at the same time.
Ask one of our technicians about enrolling in our thorough, annual furnace maintenance plans. They include periodically scheduled service visits. These are designed to keep your furnace in working health and decrease the need for additional maintenance visits or emergency repairs. Proper maintenance helps keep your warranty active, and may even aid your system's energy efficiency. The next time one of our technicians is at your home, feel free to ask about more specifics. They'll be happy to share how a maintenance plan caters to your schedule.
During one of these visits, we'll thoroughly inspect important machinery for signs of wear and tear. We'll also keep moving parts working smoothly. Any electrical systems at risk are also reviewed. Altogether this will put you in a strong position for getting the most out of your heater.
In the end we're only technicians, not miracle workers. Furnaces usually last anywhere from 12 to 17 years. If your furnace reaches this age, you may be discouraged to learn it won't run as effectively as it used to. It's also possible you'll need to schedule more frequent repairs. These costs add up when functioning in colder weather. Higher utility bills with no change in comfort is another great sign that your furnace is getting too old.
You'll know for sure when you're spending more on upkeep than what a new system costs. It may not be fun to buy a new furnace, but the benefits of a new system justify the initial cost. Take advantage of our outstanding furnace installation in Troy. You'll see how far technology has come in terms of noise levels and additional features.
While the number of models and features may feel confusing at first, just let us know. We help you pick out the ideal choice by going over the options until you feel comfortable with your decision. Whatever you do end up choosing, we assure you it's a reliable product seamlessly installed into your home.
Give us a call at 208-603-2210 or contact us online to get started with quality HVAC service today.